Randy Jackson, Jennifer Lopez, and Steven Tyler
The new season of American Idol debuted last night with Jennifer Lopez and Steven Tyler as the show's newest judges as they hit the first auditions in New Jersey. With Paula Abdul and Simon Cowell both gone, can these two superstars replace the very nice Paula and the infamous witty Britt? It's too early in the season to predict how they will do, but last's night episode gave us a little taste.
Singer, dancer, actress, mother, and not to mention wife of Marc Anthony, the flawless and always fabulous J. Lo tried to be kind and soften the blow when she turned down contestants. However, there were a few questionable contestants that J. Lo gave the "okay" to. We think she was trying to avoid replacing bad cop, Simon Cowell and create a more like-able title for herself. There were of course some awkward moments where contestants tried to beg and plead and make up foolish excuses, but oh no, Lopez was not buying it. Achille Lovle sang a rendition of Madonna's
"Dress You Up" and failed to impress Lopez. The contestant's excuse, her accent. Lopez's response: " It's not about the accent, it's more really just about the singing". Diss! Aside from that, we say J. Lo definitely played nice.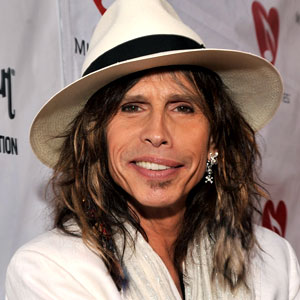 Rock star, and lead singer of Aerosmith, Steven Tyler came dressed in a colorfully clashing variety of patterns and jewelry, like always. Since J. Lo didn't fill the shoes of Cowell, could Tyler do it? Not exactly. Tyler also played nice and didn't deliver dream shattering insults to the contestants. Tyler did bring to the table energy, quirkiness and some flirty language, telling one 16 year-old in a skirt, "just the right amount showing
". We're not sure if that's really okay to say to 16 year old, but he did give her the "okay" for the next round. Tyler didn't fail to lash out strange comments, too. Asking a contestant with colorful vocals if they ate " alot of paint chips as a child". Funny, but not mean enough.
Overall the new judges didn't seem to bring any great for t.v drama or insults to the show. I mean, we all know we watched to see Simon and Paula fight and to see whose dream Cowell would shatter next. We don't expect any of that this season from these two judges, so we are going to leave it to our dogg, Randy Jackson, to hold it down and let us know who really has what it takes to win Idol. Stay tuned for the next episode on Thursday in New Orleans.
What did you all think of J. Lo and Tyler as the new judges?
Let us know how you feel!
Don't forget to follow us!